Choir's anniversary celebrations continue with Dawlish tour
Thursday 25th October 2012 10:00 pm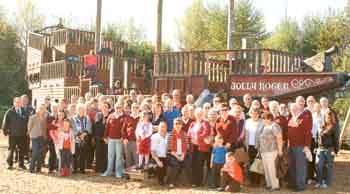 Ahoy there me hearties! The tour party in front of the Jolly Roger pirate ship.
Subscribe newsletter
Subscribe to our email and get updates right in your inbox.
This year is a celebratory year for Pembroke and District Male Voice Choir, the 60th since their formation in 1952. Highlights, among others, were a first concert since renovation of the Military Chapel, Pembroke Dockyard, with the Band of the Welsh Guards, and a highly successful concert with Aled Jones at Folly Farm for Macmillan.
The celebrations continued with a return trip to the Langstone Cliff Hotel, Dawlish Warren, Devon. Pleas from the hotel management and the local Rotary for the choir to repeat a previous riotous visit some five years ago were acceded to over last weekend
Two of Silcox's best charabancs arrived Friday am (no wooden slatted seats this time!) to take choir and supporters 'foreign', i.e to England. The choir consider visits 'abroad' like this essential missionary work.
Tour guides Phil and Steff Lloyd ably led a coach each. On coach two, you could amuse yourself with the quiz provided and be entertained by Ms Courtney Jane Thomas, a lively six-year-old.
Arranged by Mrs. John Shaw, a buffet lunch was provided by the Bristol Inn, Cleveden; excellent and reasonable it was too. A mid-afternoon arrival at the hotel was trouble free, the hotel staff skilled and organised at coping with a major influx of guests. Time thereafter was the visitors own, until dinner at 7 pm. Food is of a very high standard at this hotel and staff efficient, friendly and unobtrusive.
Courtney Jane Thomas (birthday girl) was treated to a splendid candlelit cake by staff.
Following dinner, guests were entertained by Steve Stevens. One sees and hears of entertainers or would-be stars of television talent shows that possess not a fraction of the skills Steve demonstrated that night. Hilariously funny comedian, multi-musician, imitator-extraordinary, wonderful singing voice, he provided a wonderfully entertaining interlude for the audience and fully deserved the standing ovation given him. He was 'something else', as they say, marvellous.
Saturday after breakfast, there was the opportunity to go take the coach to Newton Abbot or to please one's self. The area was blessed with splendid weather, so coastal walks were a popular choice prior to preparations for the 8 pm concert.
Local Rotary had worked hard on ticket sales, managing to fill the huge room to capacity. MC Phil Lloyd soon had all at ease with his special brand of humour, before the choir got the concert under way. Soloists Henry and David followed with 'Cornish Floral Dance' and 'If I Ruled the World', respectively, then the choir returned with a further three items, before Alyson played a medley of traditional Welsh tunes.
Three items by the choir took matters to the interval when Bruce Pell for Rotary gave a brief talk on their intentions for the money raised, most of it for self-supporting water supply projects in Africa. Later, petite Donna Maiden had 'Happy Birthday' sung to her, much to her acute embarrassment!
Henry entertained the audience with a solo, while the choir prepared itself for the 'Song of The Jolly Roger'. This song is a perfect opportunity for some in the choir to revert totally to childhood, dressing up and acting the part for all their worth! Other choristers, not given to such displays of extrovert outrageousness, got in the swing of things with a variety of more modest outfits.
After the sobriety and correctness of the first half, the audience were quite convulsed at the antics and sight (all in a good cause remember!) of the very same choir. So much so that it was difficult for conductor Mrs. Lloyd to bring everyone to order even to perform the number. Out of chaos came order finally, the song completed and choir left stage to loud cheers.
Then it was a case of trying to muster as much of their original dignity as possible for the second half, dressed as a proper choir this time!
A selection from Les Mis by P&DMVC went down well, Sam followed this with 'My Way', again to much applause. The choir chose romance for the next two items, before Mrs. Lloyd and accompanist Jenny sang the sweetest of duets as tribute to the choir 'Can't Help Loving That Man' from Porgy and Bess. Not a dry eye in the house!
'Get me to the Church' by the choir was a time filler to enable certain choir members to prepare themselves for the grand finalé: the 'wedding' of gigantic bride (size 28) to diminutive groom, both dressed in full for the part. 'Killer' Kilcoyne and John Marenghi were the heroes of this particular piece of theatrical farce. The audience helpless at the spectacle until John Kilcoyne eventually brought them to earth as to the purpose of the night.
A further collection at the exit door was a mandatory one, he emphasised, and strangely, no one arose to argue against!
An encore, 'Calon Lan', was demanded and delivered, before the audience left content. Late-ish socialising by choir to wind down was a requisite before bedtime.
Breakfast, load up and departure for 10.30 am went to schedule. A break at a giant garden centre, selling everything from dried pigs ears to mountain climbing gear, for a late lunch was next. It became a necessity later to throw off all children playing on the pirate ship 'The Jolly Roger' so a total group photo could be taken. Stiff initial resistance was encountered, before choir and supporters successfully invaded and conquered the persistent little mites!
A final comfort stop then at Pont Abraham before the trusty drivers finally delivered everyone safely to hearth and home.
P&DMVC will join Neyland Ladies in the Torch on November 2 for their next engagement. Do come!
Comments
To leave a comment you need to create an account. |
All comments 0