Campaigners welcome ban on third party puppy sales in Wales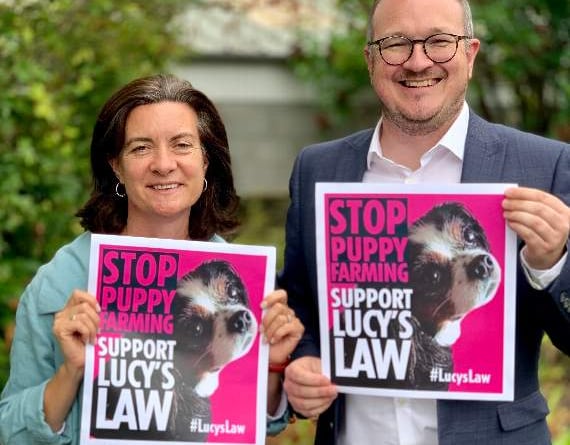 Campaigners Eluned Morgan AM and Marc Tierney, PPC for Carmarthen West and South Pembrokeshire have welcomed the decision of Welsh Labour Government that will ban third party puppy sales in Wales.
()
Subscribe newsletter
Subscribe to our email and get updates right in your inbox.
Labour's Parliamentary Candidate for and South Pembrokeshire and Carmarthen West has welcomed news that the Welsh Government has announced its intention to ban the third party sale of puppies and kittens in Wales.
In a move welcomed by RSPCA Cymru, Lesley Griffiths, the Minister for Environment, Energy and Rural Affairs, confirmed in a statment last weeek that - following a supportive consultation - she proposes "to introduce a ban on the third party sales of puppies and kittens".
The move would mean anyone looking to buy or adopt a puppy or kitten must either deal directly with the breeder or with a rehoming centre.
"The #LucysLaw4Wales campaign has been a real success, involving people from across the constituency and region," commented Marc Tierney, Labour's Parliamentary Candidate for and South Pembrokeshire
"The Welsh Government has taken a positive step in banning third party puppy sales and confirming that they will look at the regulations on breeding and animal welfare.
"We've seen on too many occasions animals being kept in filthy, unfit conditions.
"The law must be strengthened to give the authorities the power to make earlier interventions to end the suffering," he added, with his colleague Eluned Morgan AM stating: "I am so pleased that the Welsh Government has taken the positive step of introducing Lucy's Law in Wales.
"Last summer, we brought the issue of puppy farming and third party puppy sales to the National Assembly.
"Bringing together campaigners and volunteers engaged in rescuing breeding dogs and their pups, it was a tremendously important event that shone a light on the issue in Wales and looked at the opportunity of improving our legislation.
"In parts of Mid and West Wales, we have heard some terrible stories of puppy farming, with dogs being kept in poor, isolating conditions and intensive breeding leading to ill-health and the abandonment of ex-breeding dogs.
"I am heartened that Lesley Griffiths has pledged to go even further in her statement today, stating her intention to look again at breeding regulations to improve welfare conditions and to consider how to help the public make more informed choices when buying a pet.
"I want to thank all of the campaigners in particular Marc the Vet, Eileen and Linda who have played such an important and influential role in the campaign, by keeping "Lucy's Law" high profile but also in rescuing and looking after dogs that have been abused and abandoned once they can no longer make their owners money," she added.
A further review of breeding regulations in Wales has also been welcomed by RSPCA Cymru.
"Wales' new dog breeding regulations marked a huge step forward, but we're eager to work with the Welsh Government to afford even greater protection for all puppies, kittens and their parents," said Claire Lawson, RSPCA Cymru's assistant director for external relations.
"This includes more emphasis on tackling genetic issues, a staff-to-dog ratio that better considers welfare, and possible action to tackle bad cat breeding practices.
"Adding a puppy or kitten to the family is a huge commitment - and the RSPCA will continue to promote our advice with prospective buyers and adopters, while highlighting the countless rescue animals at our centres seeking a second chance of happiness," she added.
Comments
To leave a comment you need to create an account. |
All comments 0