Jail for Pembroke Dock man who acted like a 'raging bull'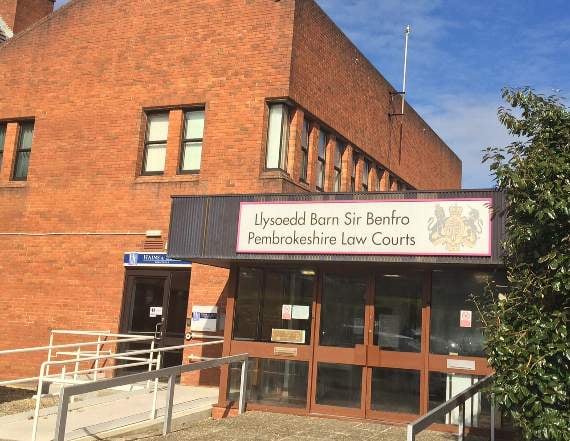 Subscribe newsletter
Subscribe to our email and get updates right in your inbox.
A Pembroke man is serving eight weeks behind bars after acting like a 'raging bull' when he got involved in a 'quarrel' over a taxi with a group of youths who were 'horrible' to his mother.
Twenty-five-year-old Lance Bernard Terrance Finnegan, of Church Terrace, Monkton, appeared at Haverfordwest Magistrates Court, on Tuesday, to plead guilty to causing criminal damage, and a further charge of assaulting a male by beating, on November 12.
Prosecutor Sian Vaughan told the court that the complainant was out with a group of friends and shortly after 1 am they got in a taxi, when all of a sudden a female came out of a premises on the street stating that the taxi was pre-booked, and a 'quarrel' took place.
Soon after the female's son came out, who was Mr. Finnegan, and he placed his hands around the neck of the complainant and tried to strangle him.
Mr. Finnegan then took his anger out on the taxi, by pulling the vehicle's sign off and punching its rear side window.
"The taxi driver said he was like a raging bull and out of control," Ms Vaughan told the court, explaining that the defendant was subject to a suspended sentence imposed on him in August of last year for criminal damage.
Defence solicitor Jonathan Webb told the court that Mr. Finnegan's mother was having a get-together at her home in Pembroke which her son attended.
A taxi was ordered and when two of the guests went to leave, they found a group messing around by the taxi.
Mr. Finnegan's mum went out and spoke to the taxi driver and the group started calling her names.
"Lance went out and remonstrated with the group. He fully accepts laying his hands on the complainant first, but denies some of the damage caused to the taxi," explained Mr. Webb.
"He saw someone being horrible to his mum verbally and lost his temper," he added.
Magistrates activated the suspended sentence breach and ordered Mr. Finnegan to serve four weeks, whilst imposing a further four-week sentence for the latest charge, with both sentences to run concurrently and consecutively.
Mr. Finnegan was ordered to pay compensation of £300.98 to the taxi driver, £100 to the complainant, and a £115 victim surcharge.