Council calls Tenby hostel facility arrests an 'isolated incident'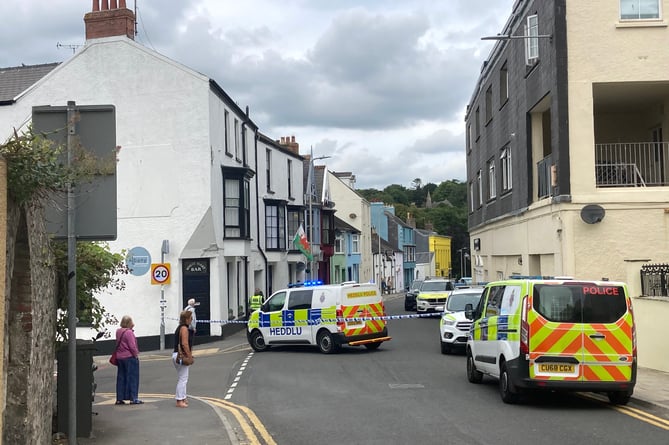 One of the main routes into Tenby was closed for several hours as police dealt with the incident
(Observer pic )
Subscribe newsletter
Subscribe to our email and get updates right in your inbox.
Pembrokeshire County Council have issued a statement following recent incidents at a hostel facility in Tenby.
Two men were arrested following an incident at The Albany Hotel on July 27, with Dyfed-Powys Police closing off one of the main routes into the seaside town for several hours, as they dealt with the incident at the premises which is located along the Norton and junction of St. John's Hill.
Eye-witnesses residing and working along the street told the Observer at the time that they believed that an occupant of the hostel had barricaded themselves in.
A 36-year-old man was arrested on suspicion of using threatening or abusive words or behaviour likely to cause harassment, alarm or distress, while a 41-year-old man was arrested on suspicion of obstructing/resisting a constable in the execution of their duty, police stated following the matter.
Concerns had already resurfaced from nearby residents over public order offences occurring at the hostel facility when earlier that week officers from Dyfed-Powys Force were called to deal with a matter, with three police vehicles in attendance.
Pembrokeshire County Council confirmed back in September of 2021 that there was a 'temporary arrangement' in place with the authority and the hotel owners to use the building as a hostel for the homeless, but under review.
Further to the incident which led to the arrest of two men, Pembrokeshire County Council and Dyfed-Powys Police have stated today (August 5) that the matter was an 'isolated incident' that was dealt with swiftly.
Cllr Michelle Bateman, Council Cabinet member for Housing Operations, said: "We are extremely grateful to the owner of the Albany Hotel in Tenby for being able to provide accommodation and support for our county's homeless residents.
"I am concerned with the negative comments made on social media and in the press in relation to the incident and the arrangement the Council has with this business.
"This is a much needed resource in the county where we are facing an unprecedented demand on our homelessness service and an acute shortage of affordable housing.
"Without the support of a number of B&B proprietors from across the county we would be in a far worse position with many more of our residents facing street homelessness.
"The support provided by the owner of this hotel and staff to those who are facing hard times in losing their homes is invaluable and as a Homeless Service we are satisfied with the management and support being provided," she continued.
"We ordinarily do not identify the accommodation we use for homeless placements due to the sensitivities and to maintain confidentiality of those residing there, as well as avoiding any negative media attention.
"The hotel owner also liaises regularly with immediate neighbours in case there are any matters of concern that they may wish to raise with him."
Dyfed-Powys Police Sergeant Stuart Wheeler said: "The Local Neighbourhood Policing Team provides a visible presence in the community and we will continue to work closely with Pembrokeshire County Council and The Albany Hotel to address any local concerns."
If there are any further concerns in relation to this matter, members of the public are asked to please contact the Council's Housing Service at: [email protected] or via the County Council contact centre.
County Councillor for Tenby's North ward, Cllr Michael Williams contacted PCC's Chief Housing Officer Gaynor Toft on the matter, after being contacted by a number of concerned elderly residents on ongoing issues that were being reported at the premises.
"The use of this building for housing some of the current residents is completely unacceptable. I have today witnessed real fear, and this is the responsibility of PCC," stated Cllr Williams in his correspondence.
"If the authority is unable to effectively manage the facility it must be closed and more suitable accommodation found, preferably outside a built-up area.
"It is grossly unfair on Council taxpayers to have to put up with this level of disturbance on an almost daily basis, frankly enough is enough, and this problem must be sorted.
"The cost to already extremely over stretched emergency services cannot be justified, to witness four police vehicles, plus an ambulance parked there is ridiculous.
"The ambulance service is grossly over stretched at the best of times," he added.
Comments
To leave a comment you need to create an account. |
All comments 0